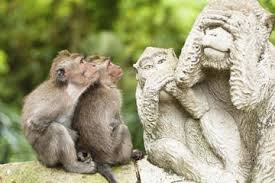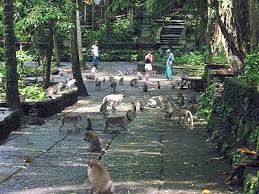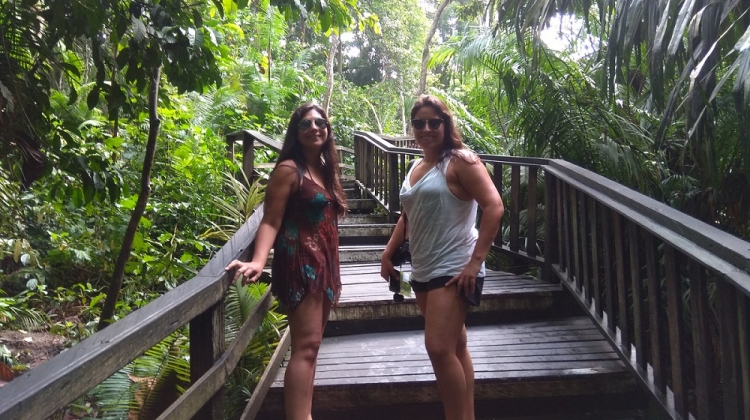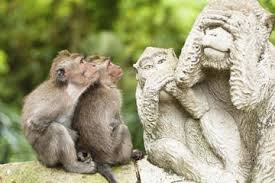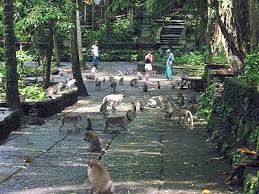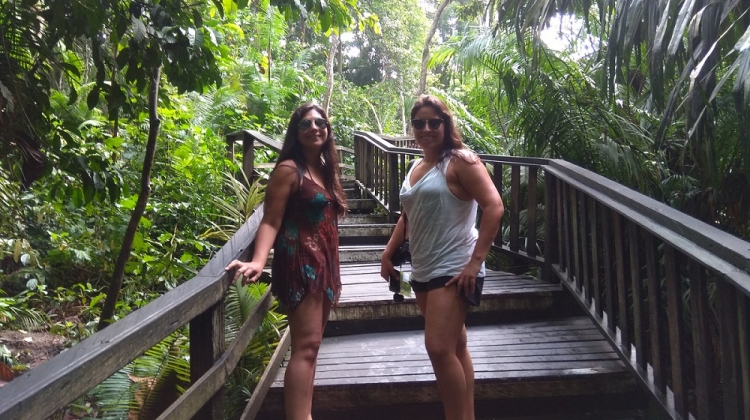 UBUD MONKEY FOREST

Ubud Monkey Forest is a nature reserve temple complex in Ubud Bali. Its full name as written on a welcome sign is the Padangtegal Mandala Wisata Wanara Wana Sacred Monkey Forest Sanctuary.The complex houses approximately 340 (Macaca fascicularis) monkeys (32 adult males, 19 male sub adult, 77 adult females, 122 juvenile and 54 infants).Crab-eating Macaque

Ubud Monkey Forest is a small rain forest dwelt by some group of monkeys and other tropical animals. It is strategically located in the hearth of Ubud Village. Monkey Forests in Balinese language called Wanara Wana are spread out in the island and Ubud Monkey Forest itself own very important function of the continuity the monkey habitat in Bali. Meanwhile the local community own important role to keep this forest naturally in order to all wild animals able to live smoothly.

The sacred sanctuary of Monkey Forest is located on the southern border of Ubud town around 3 kms south of central town with a leading road also with the name ofMonkey Forest. The site can be reached by many sides besides from central town of Ubud, from eastern corner of Ubud and from southern area of Ubud. The distance from Kuta is around 55 kms, from Sanur around 40 kms, and from Nusa Dua area around 65 kms.

The Sacred Ubud Monkey Forrest

in Balinese name is Wanara Wana it is the name of monkey forest in Sanskrit language, as the language ever influenced the layers of religious and ruling class of Indonesian archipelago before the fall into islam, and only Bali that strongly maintains the tradition.
It is important to treat the monkeys with respect as this forest is heir home and you are a guest in it. Please remain on the paved paths. The monkeys may become aggressive if you invade their private areas ( wanara Wana staff and researcher may occasionally be seen in this areas please do not follow them.
It can often seen how the Balinese Macaques are cracking open coconuts. If available they like to eat bananas and papayas, too. Once taken please leave the fruit with the monkeys. If you with to feed the macaques please do so carefully, and if they take food from you, please do not attempt to retrieve it back. It is also of great importance that you treat the trees, the plants and other animals and structures within the Sacred Ubud Monkey Forest with great respect.
This is holy area and an important ecological preservation. please enjoy the beauty and magic of this place. while at the same time respecting what lives in it. If you have any question or if you should need assistance, please asked the Wenara wana personnel ( identified by their green uniforms ) or a member of the research project.

Tri Hita Karana Thought

In accordance with Balinese Hindu thought, peace and liberty are obtainable in our life only when we respect and observe the three harmonious relationships known as the Tri Hita Karana with the following advises :

The Gods bless life and created nature and all of its entities
Nature provide sustainable support to the need of living beings
Human beings as the highest being has the obligation to preserve the mother nature which was in the past only religious approach could operate before more reasons could take over the role.

Based on an analysis of a manuscript called Pura Purana ( meaning history of a Pura ) which is considered a holy writing the temple was built around 14th century during the reign of kings with the palace in Pejeng area. If this assumption is taken the establishment of the temple would be before 1343 AD, not at the beginning of Gelgel Palace which is far behind around 17th century. There are three temples in The Sacred Monkey Forest namely :

Dalem Agung Temple, located at the south western corner of the main forest area. This temple is the most prominent in Monkey Forest
The Holy Bathing Temple located down steps close to the water stream. This temple is divided into 3 courtyards ( mandalas ) with pools.
The Prajapati temple with cemetery located at the southernmost of the area.

Balinese Macaques at Ubud Monkey Forest

The monkeys that live in this sanctuary are called Balinese macaques, also known as long tail macaques. Their scientific name is macaca fascicularis and aside from humans, macaques are the most widespread and successful of all primates.
About 300 macaques currently reside in the monkey forest. There are approximately 35 adults males, 95 adult females and 170 young. These macaques live primarily in three clusters of females and males. Each of these groups tends to use different areas of the forest at different ties of the day. All macaques use all of the forest. Conflicts sometimes arises when two groups are in same area. Adult males weight up to 8 to 10 kgs and have large canines teeth, broad shoulders and facial hair that resembles a mustache. The adult females are smaller then the males ( 4-8 kgs ) and have long facial hair resembling beads. Balinese macaques group is centered around groups of related females called "matriline" Male macaques usually migrate in from other area and attempt to associate themselves with the female matriline Both males and females, have st of dominance relationship, but they are not always clear or consistent.
Mating can take place all year round but most infants are born during the months of May - August. Macaques mothers range from very protective to very permissive with their infants. Many females who are not the mother spend time holding and caring for infants. Sometimes you will even see an adult male "mothering" as well.
Another Interest place can be visiting during do Tour to Ubud Monkey Forrest :
* Celuk Village : the gold and silver smith village.
* Kemenuh village : central of wood carving & Butterfly park.
* Luwak coffee : Bali coffee plantation and procession.
* Kanto Lampo waterfall : visit Natural beautiful water fall.
* Tirta Empul temple ; Holy Spring Water Temple.
* Tegalalang Village : Beautiful Rice terrace.
Tour price to Ubud Monkey Forrest tour Bali:

1 - 6 person : IDR. 550K per vehicle
7 - 13 person :IDR. 1200K per bus

Duration : 8 - 10 hours
Pick up time : 09.00 AM
| | | |
| --- | --- | --- |
| No | Description | Price (IDR) |
| | Airport - Kuta/Legian | |
| | Airport - Seminyak | |
| | Airport - Nusa Dua | |
| | Airport - Sanur/Denpasar | |
| | Airport - Tanah Lot | |
| | Airport - Ubud | |
Write a review for Monkey Forest Ubud