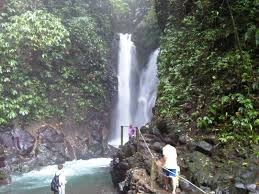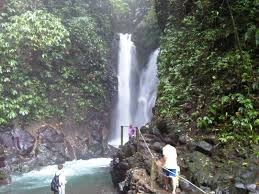 GITGIT WATER FALL


Gitgit Waterfall is an amazing waterfall from height hill which is encircled by fertile rain forrest plantation,this waterfall situation in jugle of forest,fresh atmosphere with beautiful panorama of rice terrace presenting on the way to this waterfall,Gitgit waterfall is located in Gitgit Village, Sukasada sub district and Singaraja Regency. This situated in Gitgit waterfall is the plateau area with the height about 35 meters and Gitgit Waterfall is surrounded by tropical tree and emits the constantly natural water debit during the year. at Gitgit Waterfall that will be heard waterfall voice around the charming nature was amazing and it was the separate attraction which can be enjoyed by each visitor who comes to visit. There are some plantations protecting the rain forest around the waterfall and in this place we often met the wild monkey to get the water from this waterfall.

Gitgit waterfall one of the famous tourism destination in Bali ,Gitgit waterfall about 10km from Singaraja town and about 70km from Denpasar town,Gitgit waterfall set at height land about 300 meter above sea level,Beside of Gitgit waterfall there is another important spot point like the monument for hero struggle of Singaraja resident who dead on the battle against the Dutch colonialist. This monument is called Bhuwana Pangkung Bangka. This Monument is extant monument and idol of people struggle action against the Dutch colonization. This monument is located in Gitgit countryside and Sukasada sub district and about 17 Km from Singaraja Town.

In addition, the facilities are available at Gitgit Waterfall is consisted of the parking area, restaurant and art shop. It is not far from the waterfall place, there is a place for taking a rest while enjoy the beauty panorama of rice terrace and Buleleng Beach. In order to visit the Gitgit waterfall, all visitors will follow the walkway down until the spot point. The road on the way to Gitgit waterfall is one of the omissions in Dutch era where the local resident uses it to access other regions. On 1975, The Gitgit waterfall is opened as tourist destinations in north part of Bali . Since it is appointed as a tourist destination in Bali, many tourists from domestic and foreign countries visits this waterfall. Singaraja Lovina beach area and Lovina Dolphin Watching adventure are the favorite sightseeing program beside visit of this Gitgit waterfall.
Another interest place can be visisting during do gitgit waterfall tour ;
* Taman Ayun Temple : The ancient mengwi royal family templetaman ayun templetanah lot temple.

* Luwus Village : Traditional Bali "Luwak" coffee processing.

* Lake Beratan : The cool mountain resort and beautiful vulcanic lake.
* ulundanu temple : floating temple on the lake beratan

* Jatiluih Village : A biggest rice terrace in Bali and UNESCO world heritage.


Gitgit waterfall Tour price :
* 1 - 6 person : IDR. 600K per vehicle.
* 7 - 10 person : IDR. 1,100K per bus.

* Duration : 8 - 10 hours
* Pick up time : 08.30 AM
| | | |
| --- | --- | --- |
| No | Description | Price (IDR) |
| | Airport - Kuta/Legian | |
| | Airport - Seminyak | |
| | Airport - Nusa Dua | |
| | Airport - Sanur/Denpasar | |
| | Airport - Tanah Lot | |
| | Airport - Ubud | |
Write a review for Gitgit Waterfall